Simulate Fluid Flow Design Problems with Greater Accuracy
Using PowerFLOW fluid dynamics simulation software, engineers can evaluate product performance early in the design process, minimizing the need for costly changes further down the line.
Solve Challenges in Every Fluid Flow Design Scenario
With PowerFLOW, you can validate application solutions and find best practice methodology for multiple design scenarios.
Aerodynamics
Use PowerFLOW to help solve challenges in aerodynamic efficiency, vehicle handling, panel deformation and more.
Aeroacoustics
Solve design issues involving greenhouse wind noise, underbody wind noise, whistle and tonal noise, sunroof and window buffeting and more.
Thermal Management
Quickly pinpoint thermal management issues such as cooling airflow, thermal protection, brake cooling, drive cycle simulation, and electronics and battery cooling.
Climate Control
Understand and solve challenges around cabin comfort, HVAC unit and distribution system performance, HVAC system and fan noise, defrosting and demisting.
Powertrain
Find and resolve powertrain challenges involving drivetrain cooling, exhaust systems, cooling jackets and engine blocks.
Soiling and Water Management
Identify issues caused by 'A' pillar overflow, dirt and dust accumulation and tire spray.
Discover How PowerFLOW Can Help You
True Rotating Geometry
PowerFLOW's ability to simulate true rotating geometry enables practical and accurate prediction of noise and performance of HVAC and cooling fans – something that's simply not possible using standard rotating reference frame models.
It also improves accuracy for any application that has rotating components and is transient in nature.
Applications include:
Fan noise and performance

Simulations for axial flow fans, centrifugal fans, mixed-flow fans and cross-flow fans
Ability to analyze flow rates and pressure rises

Brake cooling
Wheel aerodynamics
Pumps, blowers, turbines, mixers and more
Coupled Simulations
PowerFLOW seamlessly couples with other SIMULIA applications to perform expanded applications.
PowerTHERM® predicts surface temperatures and heat fluxes generated, with fully coupled state-of-the-art radiation and conduction solver
PowerCOOL® predicts heat exchanger performance and top tank temperatures, with fully coupled cooling system simulation models
PowerACOUSTICS® predicts and analyzes aeroacoustic noise
Rapid Simulation Turnaround Time
PowerFLOW is designed from the ground up for operation in high-performance computing environments. It provides the fastest possible simulation times – delivering near-linear scalability up to hundreds of processor cores.
One model, many simulations
Once a surface mesh model is prepared, our best practices detail how the same model may be used to perform additional simulations (such as thermal or aeroacoustic) using SIMULIA's integrated suite of products.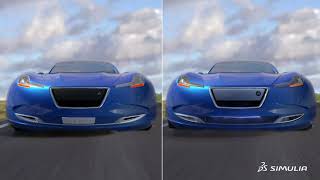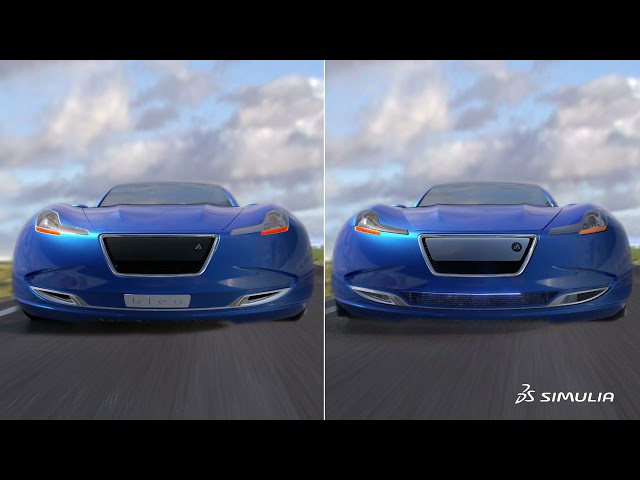 Vehicle Thermal Management Solutions
A good thermal design ensures reliability, durability, efficiency, performance, and safety wherever and however the vehicle is operated. When the thermal design is inadequate, the vehicle stops working as intended, which will inconvenience the occupants or worse.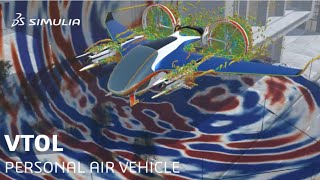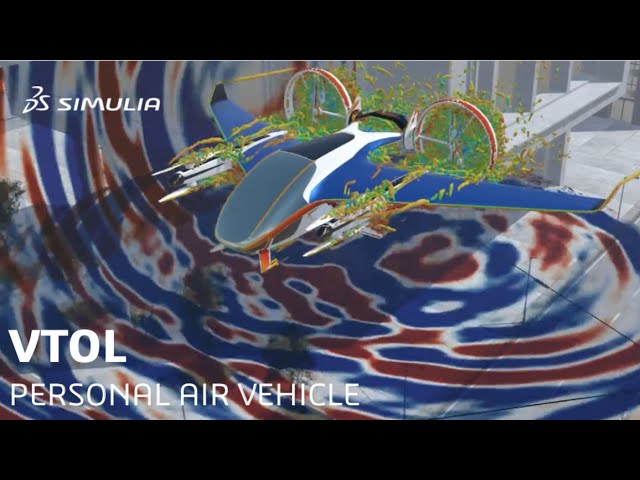 SIMULIA PowerFLOW CFD Simulation of a VTOL Personal Air Vehicle
Results of a transient CFD simulation of a VTOL personal air vehicle configuration undertaking a conversion maneuver, decelerating from an approach condition, with tilt propellers in tractor modality, to a hover condition, with tilt propellers in lifting modality and additional lifting rotors.